15 February 2022
Meet Kamacos, the cooperative pioneering the health coop movement in Uganda.
KAMACOS, (short for) Kampala Medical and Allied Health Workers Cooperative Society, is a worker cooperative that brings together doctors, nurses, physicians, and allied health workers in Kampala, Uganda.
The idea of establishing a cooperative, came to the Chairman Dr. Atuwaire Kagaha Dan, who, tired of the poor working conditions he experienced in his 10 years as a practitioner, wanted to create something more stable and satisfying for himself and his patients.
The problem, however, was not just the low income for the doctors themselves, high costs of running individual medical business, leading to the lack of proper quality services and this did not allow doctors to appropriately follow up with their patients and provide them with multiple services in the same clinic. Patients would come in for a medical consultation and be sent somewhere else in find of the right specialist or treatment for their problems, after which most patients would not come back and this affects their treatment and healing processes.
It was then in 2017, when Dr. Kagaha and six other doctors joined forces and founded the Kampala Medical and Allied Health Workers Cooperative Society ltd (KAMACOS), and as part of the interventions to strengthen  the Heath system in Uganda Capital city, Kampala, the Kampala Cooperative Medical Center (KCMC)  was born by KAMACOS to provide more comprehensive services to clients, from generic consultations to specific care in a "one stop center" such as general laboratory, orthopedics, dentistry and physiotherapy. This allowed patients that needed more specific treatment, to be seen in the same clinic by other specialists, thus keeping everything "in house," and further allowing the doctors to follow up in an easier way, and to clients' satisfaction and adherence to treatments because it's a one stop center. While this was initially done for the medical providers to care better for their patients, they soon realized it also minimized costs for both doctors and patients.
After a year of experimentation and planning, the project took off, and in 2018 they started making formal consultations. During their development, they received support from the Ugandan Cooperative Alliance (UCA) providing training and space for the first cooperative medical center.
KAMACOS is the first of its kind in Uganda. Their motto is "Cooperation for Healthcare Transformation and Development."
Today, the cooperative consists of 417 members, including the doctors, practitioners, and their families, and some external clients, users, and workers. About 40% of the members are women, and the majority in the cooperative are young people (under 35). When joining the cooperatives, members also receive a medical insurance, covering the medical care for them and their families paying a monthly premium of 10,000 Ugandan Shilling (around 2.60 EUR).
When it comes to governance, all the members meet monthly, while the board meets weekly. Half of the board is represented by women. Then there are the committees that ensure the day-to-day operations, such as the advisory committee, the audit committee, and the project development committee.
The cooperative, being at its initial stage, has run into some challenges, such as:
Shortage of enough diagnostic equipment and kits
Inability to adequately remunerate worker members with high wages, as the clinic project still needs to be supported with the operational costs and most of the first earnings is spent on acquisition of basic equipment foster a better provision of services.
Generally, there is luck of sufficient knowledge on health cooperatives and creating anxiety in public domain.
KAMACOS was also final stages to start providing support to members in need, by providing microloans at low interest rate but this reality has not yet materialized as the cooperative was severely hit and affected by COVID-19 pandemic resulting in failure by the save money thus the cooperative did not realize sufficient funds to achieve this goal.
The Cooperative also supported its members by procuring services directly from them, especially those who are trading in hospital usable such as medicines from some member pharmacists, hospital equipment, and laboratory reagents from members businesses.
"Being a cooperative means to give and get quality services. To benefit from each other's work, and to be self-sustaining." Says Dr. Dan Kahaga.

"Being part of a coop community allows to share basic services, reducing the stress of dealing with administrative and management issues singularly. It allows us to balance our professional and personal life but having time to spend with our families and those that we care about. We are now a team and a family." Adds Dan.
If something could be improved for this young coop, it would be in the eyes of Dr. Kagaha to provide more training for reinforcing staff capacity and leadership. But also, to inform the outsider public of what a cooperative is and how it works.
As he sees it, members need to continue learning the necessary skills to manage and own their cooperative, while still battling the mistrust in the coop model. In Uganda, there is still little knowledge about cooperatives general and health cooperatives in particular.
Cooperative business model is good and effective, however there is need to popularize this idea across the divide worker to appreciate the concept and also build capacity for worker groups to manage their cooperatives effectively.
Patience is key, as this young coop will be shortly revolutionizing the health service industry in Uganda.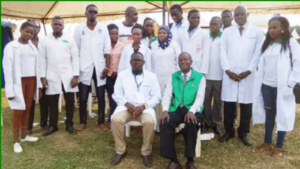 KAMACOS is a member of the Uganda Cooperative Alliance, our Ugandan member.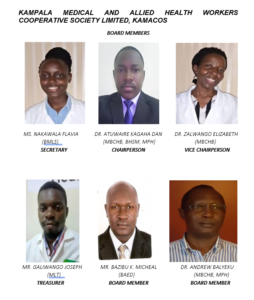 FOR MORE INFORMATION:
Website: https://www.kamacos.org,
Email: info@kamacos.org
Contact: +256 780 102036/+256 704 598736,
P.O.BOX 24316 Kampala, Uganda.